Associate Membership
CCBN associate network members have the opportunity to showcase their products and services through a variety of platforms.

​Our members seek the most recent, cutting-edge products and technology available to boost their bank's bottom line and increase profitability. Associate membership is your company's access to valuable exposure to the top community bank decision makers.
Gain greater ACCESS and visibility, and a greater sense of belonging to a network that works for the good of community banking, its customers and the economy at large.
With access to all the top decision makers and their staffs in the California community banking industry, you can forge powerful relationships with your target audience of community bankers who are proactive about success in their industry.
Associate Membership with CCBN offers:​
Networking & Sponsorship Opportunities
Credibility & Knowledge
Brand Positioning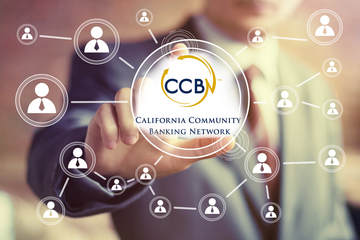 Networking & Sponsorship Opportunities
C-Suite Networking
CCBN provides networking conference calls, educational events and socials for community banking C-Suite professionals that help foster peer-to-peer relationships and opportunities to discuss current events/trends in the marketplace.
C-SUITE Conference Calls (Members free)
CCBN Directors Roundtable
CCBN Annual Top Banker Meeting

Live, Virtual & Hybrid Seminars
Our education seminars are taught only by experts, priced for affordability, topical and relevant – these seminars are made to be useful and substantive. We build various education seminars, including lending, compliance, finance, risk management, technology and more! Join us at the discounted Member rates.
Senior Lenders/Credit Officers Forum
Call Report Preparation
BSA/AML Conference
Credit Analyst School
Directors Roundtable
Cyber Security/Tech Conference
A Day with the Regulators
Commercial Lending School
CCBN Annual Top Banker Meeting
Brand Positioning
Website – Your company name and logo will be displayed in our Associate Member Directory on our website with a link to your company website. You can also list upcoming company events, new product offerings, and other solutions, discussions, and resources for community banks in the Resources Forum section on our home page.
@ Your Service – Our new online Quarterly Newsletter gives you another opportunity to promote upcoming company events, new product offerings as well as webinars you are offering or white papers on current hot topics. Ad space will also be made available on a limited basis.
Speaking Opportunities – Opportunities to speak in front of a CCBN audience through the various events listed above, including speaking as a sponsor at an event or seminar, either live or virtually.
Event Sponsorships – Sponsorships are limited and only available to CCBN members for most of our events (details below).
​Associate Membership to the CCBN ranges from $1,250 - $2,500 (depending on # of employees) & includes:
Attend CCBN meetings and events at Member rates
Sponsorship opportunities, both as a speaker or featured guest
Promotion on the CCBN Website: Listing as CCBN Associate Member with a link to your site
Ad space in the @ Your Service Newsletter
Possible speaking opportunities at CCBN educational events